Technical Rider
Template and explanation
What is a Technical Rider or Stage Rider?
A Technical Rider (or also known as Stage Rider or Tech Rider) is a technical document for communicating stage set-up situations for specific purposes. These can be small or big concerts, shows, cabaret, comedy, theater, opera or musicals, etc.. These performances, usually on stages, are not compatible with every venue: some need electricity or even heavy current, some need a lot of space, some need certain architectural features such as trusses or a suspension point (a point on the ceiling from which loads, such as the rope for an artist, can be hung). In addition, these shows are usually intended to be performed on a tour at different venues where the artists should find ideal conditions that are as similar as possible. In this way, the artist can concentrate fully on the rehearsed program, the performance and the audience, and the audience enjoys a show of consistent, top quality every time and everywhere. The Technical Rider is therefore a document of quality control and assurance.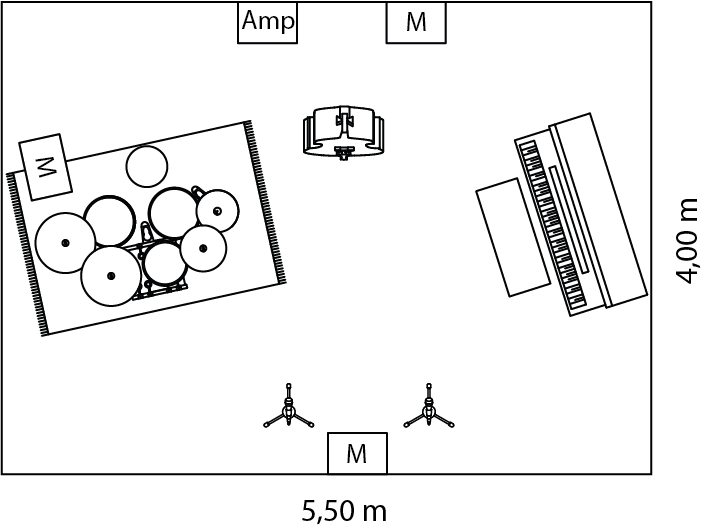 Example of a stage layout for a jazz band with an upright piano
Why do you need a Technical Rider?
Many different trades come together at an event: Musicians, artists, performers, DJs, artist agents, event planners, sound engineers, lighting engineers, stage builders, etc. Not everyone "speaks the same language" or means the same thing. That's why a carefully compiled document is needed beforehand, which objectively and clearly describes the framework conditions to be created. It serves to communicate, a bit like an instruction manual, so to speak, how the stage is to be prepared before the artist steps on it. It also saves time and energy, because the same information does not have to be constantly reiterated in conversation or email correspondence. At the same time it is completely descriptive and ideally leaves no questions unanswered, which is not necessarily the case with short briefings.
Who is the Stage Rider for?
The Technical Rider gives artists the opportunity to communicate the general conditions needed for the performance to the event planner and stage staff on site. It makes it easier for artists to communicate with their agency or agencies with the event planning department. Likewise, an exhibition construction company or venue stage crew knows what they need to set up without unnecessary back and forth phone calls. All parties involved can use this document to get a better idea of the financial and logistical effort that the planned show will entail for them. On this basis, contracts are signed between organizers and artists (or their agencies) and, if necessary, orders/contracts are placed with subsequent trades in order to carry out the event.
A few tips for bands and testimonials about the Technical Rider (in german) from an event technician's point of view can be found here.
This page shows further supplementary requirements with regard to lighting and sound technology (also in german).
Does every artist need such a document?
No. Not every artist plays on large stages. And many artists, for example jazz musicians, only perform in venues that are specialized in this art form, i.e. that have a piano, amplifiers, microphones and a sound system with staff for this purpose. Here, the lines of communication are so short and the need for technical consultation so manageable that a technical rider would even complicate matters. Often the musician has to take care of the logistics and the set-up (e.g. at a wedding) and here the number of guests and therefore the technical requirements for the performance are minimal. The customer would be overburdened with such a technical document and in doubt give the gig to a less complicated band.
However, it is good, especially as a band, for larger or logistically more demanding events to at least have such a technical rider ready when needed. In the event sector things sometimes have to be done quickly, especially in the booking phase in competition with others, and a good technical rider requires a bit of work in the preparation phase. If you don't start creating it until then, it may already be too late for the engagement. To make the technical rider easier to write, you can download the Technical Rider PDF template here.
What information belongs in a Tech Rider?
The Technical Rider contains all information (and only that information) which enables the planner of the event and the stage personnel to perform the show from a technical point of view. This is all the technical information about a show (i.e. data and facts), as opposed to the content, which is the responsibility of the performer and artist. A show must be described in a technically doubtless and comprehensive way. At the end, no questions should remain unanswered.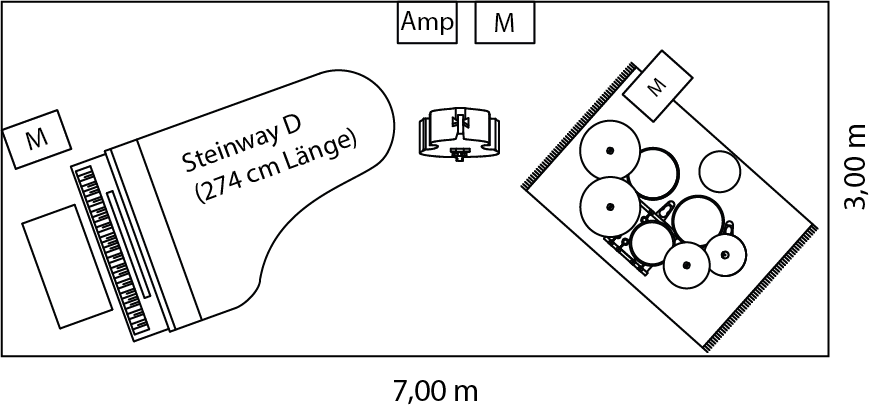 Drawing of a stage layout for a technical rider (jazz band with a grand piano)
The following information is required for a Technical Rider:
Artist name or band name
Contact details/contact person
Name of the number/act and parent program
Duration of the number and the program
Type of act/event (e.g. high wire act, juggling with knives, concert, panel discussion)
Duration of on-site rehearsal/soundcheck
Number and role/instruments of the artists and, if necessary, required assistance personnel (direction, sound, lighting, props)
Space requirement of the number (L/W/H) or space requirement of the instruments/technology
Detailed and dimensioned sketch of the stage layout with positioning of important elements/instruments
Distinction between what has to be provided and what is brought by the artist him/herself
Details of required instruments/microphones/mixing console
Power connections
For bands: input/output list
Information on required utensils/furniture (e.g. tables/chairs/speakers' desk)
Information on Lighting/lighting mood
Information about the sound system (for a certain number of guests)/the stage sound (amplification/monitors on stage)
Information on catering for the artists and infrastructure of the artists' dressing room
Delivery and logistics requirements (e.g. parking spaces for loading and unloading, stage ramp etc., access widths)
How should a Stage Rider be structured?
It should always be clear which number or which act it refers to, because if a new setup is required, this will of course be done in between. Therefore, if there are several different numbers for which a different setup is required, it is advisable to subdivide the technical rider into these numbers. Otherwise the following applies to the Technical Rider: from general to detailed. The basic data (name, type of event, setup and playing time, performers) should be mentioned at the beginning. After that, the space requirements and the stage layout should be clarified. This is usually done in both text and images (with the help of one or more stage sketches), perhaps in possible variations. With this overview, the individual stage elements (e.g. instruments, amplifiers, microphones, trusses, suspension points, props) can be described in more detail, both quantitatively and qualitatively . This means highlighting the required characteristics of the elements to allow for some flexibility if, for example, the desired type of amplifier or piano cannot be obtained. It must also be made clear what sound outputs and inputs are to be expected, or what compatibility must be ensured by the sound engineer. This is usually done via an input/output listif the miking is not done by the engineers themselves from a single source. Finally, incidental information such as dressing room facilities can be provided.
At the event on site, there is often a strict time schedule to follow. Therefore, the technical rider should be clear , have a high information density and be unambiguous and easy to understand in terms of language . All trades work with this document on site. In this respect, the Technical Rider can also be understood in a certain way as an on-site checklist.
Information on the content of the acts (unless they are relevant to the technical setup/modification) is not the subject of a technical rider, nor is information on fees or prices. What is described is merely mentioned and not justifiedAnything that makes it unnecessarily difficult for the staff to execute the show should also be avoided. This is especially the case if a certain product is required for the equipment or the like without offering equivalent alternatives.
To make it easier to create your own Technical Rider, we have created a template for it. It is free of charge and available for download as PDF and Word here:
Technical Rider of the POCKET JAZZ TRIO
Our event clients can download the Technical Rider of the POCKET JAZZ TRIO here. This can also be used as an example:
We are the POCKET JAZZ TRIO, a professional international jazz band based in Berlin for any kind of events and occasions. Our timeless swing will surely make you snap along... If you are interested in our music or would like to book us, please visit our homepage here: